Jessica Henry's Materials List
Drawing:
Pencils: Variety, 2H-4B. You can also try some sanguine, charcoal, white pencils for toned paper. Mechanical pencils are fine, too
Drawing Paper: Basic white for drawing exercises and other drawing. Sketch book for outdoor sketching (small is better, like 5″ x 7″ or around there. You can pick up some toned paper for fun, too
Eraser: Kneaded, white or pink pearl, whatever suits you. There are many types out there, sometimes I use cap or pencil erasers
Pencil Sharpener that is appropriate to your pencil. If using vine charcoal, you'll need a sanding block. If desired for long lead pencils, you'll need an Exacto knife and a sanding block
Optional:
Calipers
Blenders
White artists tape
Drawing board
If you want to do the Pen & Ink:
Ink pens of varying sizes. Or…
Pens with drawing nibs for dipping in ink
Black liquid ink (or whatever color suits you. I like sepia)
Ink well. Don't dip your pen into the bottle, as spills are guaranteed. Use a smaller vessel, a pill bottle lid will work fine, however, treasure hunting at antique stores for a cool vintage ink well is far more interesting!
Bristol Paper for inking. It is smoother and less likely to leave fine paper fibers in your pen nib as regular paper would
Watercolor:
Watercolor paint: I recommend Prang Brand set of watercolors for first timers. The paints are surprisingly good quality, but don't skimp and get the really cheap brands, they're awful. Other options, a plastic palette with tubes of watercolor paint, purchased separately, squeezed into the wells. That is what I use. If you choose this option, fill your wells the night before, allowing them to dry overnight.
Brushes: Natural are nice, some synthetics are really good too. Sables are the most desired and most expensive. Find what works for you, you want a variety of sizes (some tiny, 00 on up 4, and 6, and a 1" brush for larger washes) all these brushes are available at Michaels.
Watercolor paper, I prefer 140 Lb. Cold pressed. Blocks are fine, small spiral booklets make lovely "sketch book" recordings of your plein air experiences.
Paper Towels or a natural sponge
Water receptacle
4H pencil and Eraser
Optional tracing paper
Optional Ink dipping pens
Optional Pen Tip Nibs
Optional Higgens black ink
Optional Ink well
Hat or something to block the sun
Stool if desired
Easel if desired, you can sit and put the watercolor block in your lap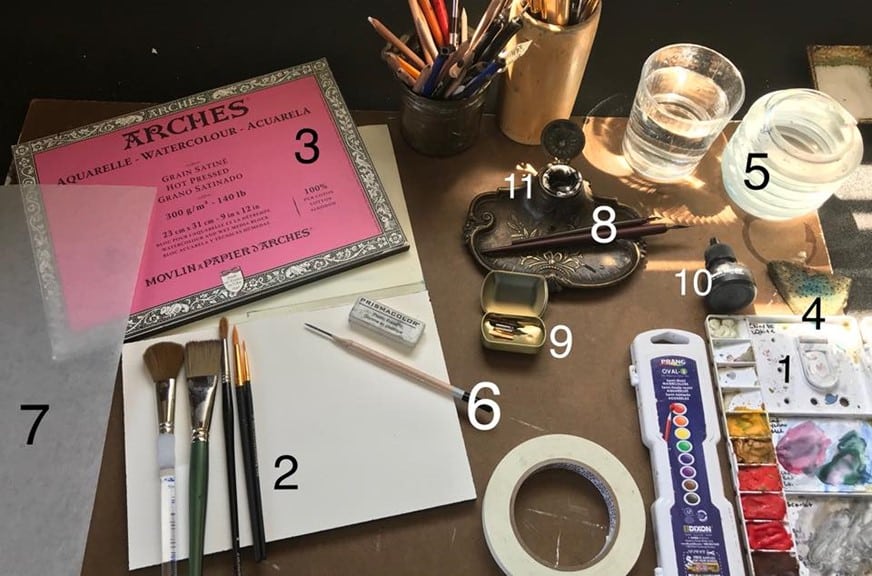 Studio Oil Painting:
Oil Colors:
Titanium White (W), Cadmium Yellow Pale (CYP),
Yellow Ochre (YO), Cadmium Red Medium (CRM),
Burnt Sienna (BS), Ultramarine Blue (UB),
Alizarin Crimson (AC), Pthalo Green (PG) Pthalo Blue (PB)
Palette
Brushes: Flats- 2, 4, 6, & 8 or as desired
Can of odorless mineral spirits
Small container of linseed oil or medium of choice, such as Galkyd gel, Liquin, etc.
Paper towels
Canvas (Painting surface as desired, cotton, linen, panel)
Proper Lighting/Ventilation (if necessary)
Sturdy Easel
Plein Air Oil Painting:
Colors:
Titanium White (You cannot fly with 150mL tubes). 37 mL only.
Cadmium Yellow Medium (or Pale)
Yellow Ochre
Burnt Sienna
Ultramarine Blue
Pthalo Blue
Pthalo Green
Alizarin Permanent

For adding other colors that are lovely and impossible to mix with above limited palette, I suggest:

Magenta (Permanent or Quinacridone)
Cadmium Red Light
Cadmium Yellow light
Transparent Red Oxide
Mediums:
Gamsol (Odorless Mineral Spirits- available through Gamblin Products)
Refined Linseed Oil (Also available through Gamblin) Small container is ok for travel
I will be using Galkyd Gel. I use it primarily when I travel so the paintings dry faster.
Some people like Liquin. This is acceptable when you want faster drying times.
For Plein Air Painting, Box:
Some videos, Open Box M. Will work for portraits and plein air. Other brands are fine as well, Sienna brand is similar and more affordable.
Tri-pod to hold your painting box
Some people like the French easel, readily available at Michaels, Blick or other craft stores. I don't prefer them, because they are big and heavy, but for convenience, they're great!
Brushes: (Choose what is comfortable, there are many good brands, this one I have found is convenient. Don't skimp, but don't go broke buying brushes)
Signet Series by Robert Simmons, Rosemary or whatever will work for you: sizes 2,4,6,& 8 (any brand is fine if you like them. A stiff hogs hair bristle brush is best, flat or filbert)
"Aspen" by Princeton makes nice super affordable brushes. They hold a sharp edge and good spring. Again, Flats or Brights sizes between 4-8 are nice. These can be found at craft stores, Michaels, Blick, etc.
Some finer ones are nice, too. For signing or small details.
Palette knife for cleaning your palette or applying paint. Small triangles are easier to work with. You cannot carry these on flights. Checked luggage can have these and the larger tubes of paint.)
Painting Surfaces:
Canvases or panels to paint on. No larger than 11" x 14", I generally choose an 8" x 10", 12" x 9". Bring at least one per day. More is better in case you want to paint more after class or you have extra time during the class. They can be panels of stretched canvases. Smooth surfaces are easier to manage. Rough cotton canvases are frustrating and don't take the paint well. Raymar makes great panels to purchase. I'll be bringing some linen panels and I gesso my own 1/8" Masonite with a couple coats and they're fine, too. Just be sure to be comfortable with the surface and not too big. Large canvases take a long time to fill
Miscellaneous materials:
Paper Towels (Bungee cord to hold your paper towels to the tripod legs)
Small garbage bags, grocery shopping bags work well for this. I clip a plastic doggie bone for dog walkers with the roll of bags inside, onto my backpack for garbage bag convenience. (You've seen them clipped to dog collars)
Small sketch book/pencil
If you want an umbrella for your plein air easel, that might be a good idea, I bought the black and silver one, which I now find too dark. The white is better. Not a necessary piece of equipment, but fine if you have one.)
You'll need a hat to keep out the sun. As well as sunblock.
A means of carrying your wet panels. Raymar sells wet panel carrier boxes. They work great and are what I've been using for years.
A folding chair or means to sit, if desired.